Hi,



THIS EDITION'S TOPICS:

Recovery

Quote

Did you race this weekend?

Chef Marathon Rookie's Kitchen



---
Recovery
I was intrigued by a picture I recently saw in the newspaper that showed NBA superstars LeBron James and Dwayne Wade. The two were sitting on a bench following a workout with Team USA and both were covered in huge ice bags from their feet to their thighs. I thought, "Wow! These guys ARE human!" While I am not a huge basketball fan, I am a huge sports fan in general and see these two guys as the elite of the elite in professional sports. Both are phenomenal athletes with God-given abilities most of us simply do not have.
Seeing this picture made me feel great! It seems I use ice about every day and sometimes it just gets plain annoying. However, seeing this picture reminded me that even the best of the best have to properly recover from a strenuous workout in order to improve their performance.
So when you are feeling aches and pains, just know that it is part of getting better. Don't just think you are a wimp and no one else is feeling the same pain. They are.
Take it from the pros, take care of your body following a workout and reap the rewards of improved performance.
Action Steps:
• Ice any sore areas in your legs for 15 minutes following training runs, particularly your long run of the week
• Enjoy faster recovery and better performance your next run


---
Quote
"Running is a big question mark that's there each and every day. It asks you, 'Are you going to be a wimp or are you going to be strong today?'"
- Peter Maher, Irish-Canadian Olympian and sub-2:12 marathoner
---
Did you race this weekend?
Did you run an event this weekend? Share your experience and suggestions with other readers whether it was a 5K, 10K, half marathon, marathon or other event.


---
Chef Marathon Rookie's Kitchen
Strawberry Salad
Ingredients:
3 medium bananas, sliced
1 (20 oz) can chunk pineapple (do not drain)
1 box frozen strawberries
Large box strawberry jello
1½ cup water
Directions:
Fix the jello using ONLY the 1½ cups of water. Add the bananas, pineapple WITH juice, and strawberries. Chill, then add topping.
Topping:
Cool Whip (just normal size)
8 oz sour cream
¾ cup sugar
1 tsp vanilla
Mix all ingredients and add to jello mixture.
Nancy Clark's Food Guide For Marathoners
is a great resource for nutrition during training.


---




Happy Running!

Brad Boughman
www.MarathonRookie.com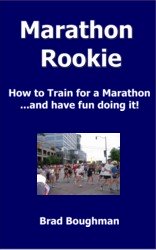 August Announcements
eBooks for only $9.97 until August 31st
New! eBooks now available in Paperback!
---