Marathon Rookie: How to Train for a Marathon ... and have fun doing it!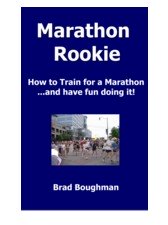 $14.97
The title says it all. Written by a former non-runner turned marathon runner, Marathon Rookie: How to Train for a Marathon...and have fun doing it! guides you through your first journey across the finish line – with a smile on your face.


Some of what's included:
• Motivation & how to stay motivated every day
• Nutrition & Hydration
• The key fundamentals of training
• How to conserve energy
• Preventing injury
• Mental tips to overcoming obstacles during the long run
• and much more


Training
• Includes a 24-week training program broken down into Pre-Training (8 weeks) & Training (16-weeks)
• Guides you week-by-week through the final 16 weeks leading you to marathon day


What people are saying…
"I am a marathon runner!!! I ran my first marathon a couple of weeks back after reading your guide to running a marathon. I really drew on the motivational parts during the run. When I got to around the 35 km mark, I was thankful to have the mental attitude to finish. The conditions were tough but I made it in 4 hrs 15. Thanks again for helping me through my first marathon."
"I purchased the marathon ebook last winter and my husband and I finished our first marathon in San Diego this past weekend. We had the best time and felt very prepared in large part due to your book. Thanks so much!"



---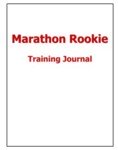 Marathon Rookie Training Journal

This handy training journal is for use with the 16-week marathon training program in the book Marathon Rookie. Use it to track your progress day-by-day, week-by-week, and to record notes about your big marathon day finish. Includes motivational or humorous quotes for each week of training.
$10.00

---
Also available in eBook format so you can start reading in minutes:
Marathon Training Book - the eBook version