Marathon Inspiration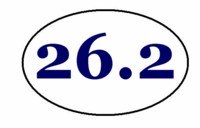 Following are stories submitted by runners to give you some added marathon inspiration.
Why do you want to run a marathon? Whatever the reason, use it to drive you through training and the finish line whether it be a marathon or half marathon.
Here are some good ole' marathon inspiration stories that just may speak to you.
Want to share your own story? Click here
---
I had been a casual runner for several years, running about 3-5 miles a few times a week with the occasional 7 mile run just to show myself I could. I had thought about running a marathon, talked about it even, but never committed.
Then, last summer, I severely sprained my ankle. It was a month before I was able to walk without a noticeable limp, another few weeks before I could walk without feeling pain. It was hard for me, really hard. It's an old axiom, but one that holds true...I hadn't realized how important my physical ability was to me until I had lost it. I remember watching a woman run past me as I was walking my dog, and feeling the jealousy physically in my legs.
Three months after my sprain, I attempted my first run. It was very slow and a little painful, but I felt so alive! I was running again! I decided that day that I wanted to do what I had always thought of doing, running a marathon. I was still worried that I couldn't do it, but I was so grateful to be running again that I knew that this was the time to try. I had 3 months to train, and roughly followed the last 12 weeks of the schedule posted here.
Going into the race, I was terrified. My main goal was to finish without walking. If that seemed possible, my second goal was to finish under 5 hours, a time based on my last training run. My boyfriend estimated my time at under 4:45.
My official finish time was 4:18:05.
Finishing this marathon is the one thing in my life that I am most proud of...I had finally done something that I wasn't sure I could do, something that I had always wanted to do but had been to scared of. And I had not only done it, but done it well. And here's the thing...
YOU CAN DO IT TOO.
The best advice I got from this sight was in the Rookie Mistakes section: "There are lots of things that can (and will) come up during training that can cause you to lose motivation. It is very likely that you will miss a run or more due to circumstances that come with life. Whether it is bad weather, illness, working late, mild injury, or whatever, NEVER lose sight of your goal and choose to see the situation as positive. Remind yourself of the feeling you will have when you achieve your goal. Do not lose motivation." I have to tell you, I missed one of the shorter runs most weeks of training...one week, I missed all but the big one. But I remembered this advice, took it run at a time, and succeeded. Thank you.
Tess S. (Ojai, CA)
Los Angeles Marathon 2008


---


I've done one marathon to date, running my second on April 27th, 2008 & my third on June 27th, 2008. I've done one half-marathon to date & am planning on a second on June 8th, 2008.
I got involved through Team in Training (my first) and my marathon in June 2008 is with Team in Training also. The cancer survivors on the course cheering me on makes me realize just how fortunate I am & that because of that fortune I can contribute in so many ways.
http://www.active.com/donate/tntwaak/tntwaakAWestwo1

Amy W. (Lynnwood, WA)


---


I hit 30 this year, and although I've run a few half-marathons, I have always wanted to run a full marathon. I have also always doubted my ability to do an entire marathon. After having 2 children, I now know that I want to be able to prove to them that you can do what you set your mind to. I love the feeling - that RUSH - that comes from crossing a finish line, and I can't imagine how amazing it will feel to know that I just ran 26.2 miles. I'm running the Indianapolis mini-marathon in May 2008 and am registered for the Chicago marathon in October 2008. I'm already so anxious for October to be here, but I know I have to get through training first. Here goes!!!!
Lisa G. (Western Springs, IL)


---


I used to run 10k's when I was in the Army (20 years ago). I lost 100 lbs. in the last year and took up running again. I (like Katie T. from Michigan) will be running my first 1/2 at the Indy Mini on May 4th. If all goes well I hope to run the Columbus Marathon in October 2008. At 42 it should be interesting for me to keep up with my 26 year old neighbor who has run both races before.
Joseph A. (Urbana, OH)


---


My inspiration for running was that I'm 61 years old, have never competed in a running event in my life and wanted to be in good shape for walking my daughter down the aisle the week after my first half marathon.
I knew nothing about training, nutrition, injuries, warmups, warmdowns -absolutley nothing. I found the marathonrookie website and followed it religiously. I started the 12 week half marathon training program up here in Canada the last week of November and ran my first half marathon on Saturday,Feb.23. I ran exactly what the schedule outlined even though sometimes the temperature was hovering near 0 degrees Fahrenheit. On my 9 mile run I got frostbitten thumbs. I carbo'd and proteined based on the marathonrookie suggestions. I iced as I read I should. I tapered off in the last 3 weeks. I thought it was crazy the week before the 13.1 mile run to be doing 3 mile runs and a 2 mile WALK? but said to myself: "These guys have been there. I haven't". On race day it was sunny, low wind, about 25 degrees Fahrenheit- a great day. I was very excited and emotional to be at the start of my first race and with about 550 others, having done all my training solo. I was a)hoping to finish, and b) hoping to be under 3 hours and not last in the field. I ran my own speed at the beginning and tried to enjoy the run, talk to others who passed me or who I passed, thank volunteers and traffic cops, enjoy the run. At the halfway point I felt very good and with about 4.5 miles left I was able to run faster and did the last 3/4 mile at good speed. I finished in 2:24 much to my amazement and had 50 people finish behind me. The marathonrookie website was an invaluable aid to me as a true 61 year old rookie. Their insights, hints and clear instructions made it possible for me to realize that what had been a dream was achievable with my motivation, my work ethic and direction provided by marathonrookie. Thank you so much.
Jim A. (Port Dover, Ontario)


---


My sisters and I live in different states. We try to get together as often as possible. This year my youngest sister had a great idea. We should do a Sista's weekend and run a Marathon! We have always all been very fitness oriented. I used to run 25 miles a week, but that was 2 years and on bum knee ago. This year me and my sisters are getting together in Cap Cod MA on Oct. 26, 2008 for the Annual Dunkin Donuts Cape Cod Marathon! I have always wanted to challenge myself to a marathon and never had the nerve and now at 41 years of age I am starting your 26 week training plan and hoping to be in the condition of my life and able to finish(not win) but finish this marathon. My sisters and I are very supportive and pumped for this event! I think it is going to be the event of all of our lives! Wish us luck!!
I am starting a MySpace page for our weekend for us to post blogs and track our progress and hopefully find friends and supporters to keep our spirits high. If anyone would like to check it out and be added to our friends list please visit: www.myspace.com/sistasweekend
Thanks for this great website! It is so helpful and resourceful! I will continue to pass it on!
Missy L. (Fall River, MA)


---


http://www.active.com/donate/tntntx/LJones
I personally am not running in that race but my co-worker is and I want to support her in it. I have always been somewhat active but at age 32 I decided to run a half-marathon in April (Big D). I started training 01/21/08. The longest I had ever ran in my life was 3miles (I only did that once). Since jan. 21st I can say I am up to 6miles (10min/mile) with 6 more weeks of training. Stick with it you and you will truely surprise yourself with the inner grit it takes to push yourself just that little bit further than you would normally. Set a goal and spring for the right shoes. That is the biggest necessity obviously. Take care and happy running!
Cory O. (Dallas, TX)


---


My sister died of breast cancer at age 38. Then I lost my dad to pancreatic cancer. A few months ago I learned about and joined Team in Training as a way to raise money for cancer research. They perform miracles and their training program is wonderful...even convincing me that I just might complete a race.
So now, at age 53, I face my first marathon in April (walking) and I hope to start running in the next 6 months. I'm excited, scared, and stunned that I have come this far.
Wish me luck, and if you want to support Team in Training's heroic efforts, check out my link and find out how to do so. Thank you for your support!
If you are raising money for charity, provide website where donations can be accepted: http://www.active.com/donate/tntntx/LindaLevy
Thank you for this helpful website. Everyone's story helps make this experience memorable.
Linda E. (Arlington, TX)


---


I have about three months of training left, and my friends and I are relying on each other for support and running tips.
After years of telling myself how much I'm not a "runner" and how much I hate it, I'm going to prove myself wrong and run the Indianapolis 500 Half Marathon in May. A couple of my friends and I decided to enter together right after college graduation to add some extra motivation in trying to stay fit. If I can do this 13.1 miles, I can do absolutely anything. Wish me luck!
Katie T. (Sterling Heights, MI)


---


I have finished two half-marathons in the past two years, but now, at the ripe old age of 45, I'm finally training for a full one. I must admit that it's VERY time-consuming, and I'm looking forward to making it history. I'm running the Cowtown Marathon in Ft. Worth, TX in Feb. 2008. I will be THRILLED to make it in less than 5 hours, but satisfied to finish at all...without having to walk. My family has been very supportive and encouraging, and I thank God for giving me the health and energy needed to even attempt this race. Wish me luck!! :-)
Shawn L. (Richland Hills, TX)


---


After running two 5Ks, I decided to take it up a level and ran my first Half Marathon in Columbus, OH in October. It was an amazing accomplishment - I'm running another Half this spring.
I would never have imagined myself running 50 feet, and especially not in a "race". While I don't run to win, there is nothing better than finishing a race knowing that the training (which helped me lose 60 lbs.) will give me more time with my children.
If you've never run a race, it's NOT impossible. If I can do it, anyone can. I began walking three years ago, got bored, began jogging, and a few years later, ran a half-marathon without pain or discomfort! This has changed my life!
Jay C. (Findlay, OH)


---


I'm running my first marathon in Madison, WI, my birthplace, in 2008. I decided on October 31st 2007 to finally listen to that inner voice that kept prompting me to get out and run. I began on November 1st and despite a week's rest due to shin splints am on track for getting to Madison in '08.
It's not been easy training for this. I've lived the life of a stalagmite for the past 44 years and jogging 5 minutes was really hard the first time I did it. I just keep focused on the moment and somehow manage to finish my training day.
Richard R. (Wichita, KS)


---


A friend of mine who has ran several marathons kept telling me "You should do it. You are built for it." I am tall and have long legs. I Guess that is what he was talking about. Anyway, I always shied away from it because I am a SMOKER. I smoke about a pack and a half of Marlboro Reds a day. One day I was watching HBO Real Sports and saw a story about a rehab program that takes crack heads and their rehab is to put them in marathon training. I decided that if a crack head can run a marathon, then a smoker can as well.
Long story short, I have ran a Full and half this year. I actually ran the half w/o stopping. This all while still being a SMOKER. I am now trying to quit smoking, but it is tough.
What I am getting at is ANYONE can do this. When I started training, jogging anything more than a mile was a serious struggle. My first training run was 3 miles. I just got it in my head that I was not going to stop until I finished each run. Anyway, if you are doubting youself......don't! You will not believe the sense of accomplishment you feel when you cross that finish line and get your finishers medal. I am now addicted. I have plans for 3 marathons and 4 halves next year. I am also trying to run any 5K within driving distance of me. Crossing a finish line feels great. It is gonna hurt (in a full), but it is SO worth it.
Robert P. (Kansas City, MO)


---


I've decided to run a half marathon after my brother did a Half Iron Man, fell off his bike, cracked his helmet in half, and still finished the race. I said, if he can do that, then I can definitely do this! I've never been a runner, and I've never been much of an athlete. Snow skiing is the only sport that I'm good at. This is the year that I turned 30. I've decided that this will be a landmark year for me, and that I will accomplish something good. I have been training for about 16 weeks, and I have really enjoyed it. During really stressful times, the goal of this race is what keeps me going. Right now I'm sitting at the computer putting ice on my left iliotibial band. I'm convinced it will be better in two days. On Saturday I will run with 3 thousand people! I can't wait to cross the finish line with a huge smile on my face and throw my arms in the air, saying, "I did it!".
Zofia N. (Orlando, FL)


---


I have decided to run in 3 half-marathons and one full marathon for 2008. I am joining a marathon training team in May for a 23-week program that will enable my body to join my mind which is already at the finish line celebrating. I will be running in the Richmond SunTrust Marathon on November 15th, 2008.
I recently decided to start running again. In high school and then in college while with Naval ROTC, I found running to be natural for me.
Since then, however, I had let myself go. I play volleyball competitively but had not run at all in over 5 years. I am about 20 pounds overweight, and have finally reached the point at age 36 that I am tired of being out of shape, easily tired and not happy with my physical appearance.
I trained for only 3 weeks, then ran in the Monument Avenue 10K in Richmond in March, 2007, finishing in 1:00:20. Then I slouched off again, finding it hard to stay motivated by myself. 8 months passed before I got myself to run in the NTelos 8K in Richmond on November 10th. After 8 months without a single run, 5 miles was hard, but the feeling crossing the finish line (49:53) was like knowing the battle is over and you are the last warrior standing.
I want to accomplish the ultimate in running: Finishing a marathon with a recordable time. Whatever the time might become with training is nice, but to finish, to finish well, to finish at a sprint, to overcome the wall, outlast the distance, means everything. I have to go all the way and to cross that finish line on my feet. See you on the other side!
Craig T. (Richmond, VA)


---


Running in general is an inspiration to me, for the last 6 years since I was a Sophomore in High school, I have been running. I started cross country, and did long distance in track. Running to me is something that shuts the everything bad out of my life, and makes me happy, its going wherever I feel like on my own two feet. Recently I have been training for half a marathon in the beginning of April, it is a goal I have set for myself, and I know once I cross that finish line, that I once and for all did one thing for myself, not for anyone else. I trained and ran, and this one is for me, and I will cross that finish line with tears in my eyes and a huge smile on my face, because I know I accomplished something I never thought I could do, and then in a year I plan on running a full marathon, and when that time comes I will be prepared, so good luck to me, and whoever else is training or running a marathon. Pat yourself on the back, because you certainly did accomplish something extraordinary.
Christina W. (Topeka, KS)


---


I am training to run my first marathon - the Edinburgh Marathon in May 2008. I ran the Glasgow Half Marathon this year at 2hrs 28mins. I am doing ok in training but trying my best to look forward to winter training.
I am recovering from post-natal depression with mild hypo-mania. I am 40 years ago and did not experience any mental health issues until 2004. Each day sends a new challenge and my training depends on my moods.
I have found jogging very good for depression and would advise anyone suffering from the illness to give it a go.
Lynda (Glasgow, Scotland)


---


I am training to run my very first marathon – the Missoula Marathon on July 15, 2007. Running a marathon is a goal I've had for a long time. Running is difficult for me, and completing a marathon will be a definite challenge. I want to feel the sense of accomplishment when I cross the finish line. I will be 45 when I participate in my first marathon this spring. I am approaching the training on a day-by-day basis and I can't believe I've made it to week #7 of the program. I am trying to be positive, but realistically I have no idea if I'll be able to complete the longer training runs (15 + miles). I am hopeful!
Karen M. (Missoula, MT)


---


I am a recovering addict/alcoholic. I have been bouncing in and out of 12 step rooms for about 20 years. I lost my wife and daughter to my disease about 10 years ago, I got back into recovery and things started going well for me, met a wonderful gal and we started to plan for the future house kids the whole deal. That was about 7 years ago.
Once again I started drinking and I ended up alone homeless and hopeless. That was 02/04/06. On that date I got on my knees and asked God for Mercy, I've not had a drink or drug from that date, I started getting into running because my therapist said it would help with my condition.
As of today I have a Wonderful life, I talk to my daughter every day, see her on the weekends, didn't get the girl back but got something much better, the love and understanding of a wonderful creator who has given me another opportunity.
I had run some 5k races and felt kind of good, great people great energy, so I started to train for longer races. Two weeks ago I saw that they were running the ING Miami Marathon and like a typical recovering person I or God decided that I would give it a shot, Not half but the whole thing, LOL. Well I'm 41 I look 32, I've been training for almost a year, my life is starting to become a dreamcome true, In two days I with GODS help will have 1 Year sober and GOD allowed me to finish my first marathon in 5:28:49. This has totally changed my life, I want to (GOD willing) continue to run more and see if I can help others feel better about themselves thru running. I didn't do anything to deserve this life I have today, but running has changed who and what I am, With GODS help. Run for those you LOVE.
GOD BLESS YOU ALL
Hector (Miami, FL)


---


Almost a year ago I enrolled myself in a residential weight loss program in North Carolina for treatment of food addiction. It was during my treatment that a group of us from the program signed up to do a 5K walk in downtown Durham. I was very nervous about it, and I wasn't sure if I could complete a 5K walk let alone embarrass myself if something happened to me on the course. To this day, I will never forget how great it felt when I saw a few of the program participants standing at the end of the course, cheering me on when I crossed the finish line. At that given moment, I gained a renewed sense of confidence in myself, and I was hooked on races.
Fast forward to today. I have lost over 50 lbs, run more than 25 races, and I recently competed in the OC Half Marathon. Tomorrow I start Team in Training to raise money for cancer and run the Vancouver Half Marathon. The deal I made with myself? In the year 2007 I will run five Half Marathons in cities I have never been to. :)
Jen (Modesto, CA)


---


It was my first marathon. I do not really remember how it all started: a friend and I had trained for the Half Marathon 3 years before and when we crossed that finish line, I remember being really pumped and saying: "next time we do the whole thing!"
"Next time" took 3 years, and I was on my own this time, but it did arrive. Somewhere along the line I also decided that a "marathon by the age of 50" might be a good goal… and so that refrain rung in my head, too.
My fitness base is/was erratic going into the training. A yo-yo dieter, I had lost the same 60 lbs at least 4 times in my adult life… I was in the middle of another big campaign to shed the pounds and thought that this might be a good goal. Running always helped me to drop the pounds. I was a regular member of a small private gym- just 6 of us every morning working out with a trainer/friend at her home studio- and she encouraged me to go for it. (She was the one with whom I had trained and run the half marathon.)
Read full story by Audrey Scanlan



---


I will be doing my first marathon on October 15, 2006 in Columbus, Ohio.
Ten years ago I was out of shape and had tried dieting years before and nothing worked. Then I used some interests and hobbies to put together for motivation to run. Then before I knew it I was running every day and had lost 60 pounds and have kept it off since.
I never thought that I would ever run a full marathon. However, when I saw the people in the Rite Aid, Half Marathon who were running the full marathon having a good time, something inside me nudged me to do the full marathon. It was like I was being challenged by the marathon and I accepted. Then I read Hal Higdon's book "Marathon" on how to train and so far the training has been simple.
To me being in a major event is such a joy and I want to experience it at its fullest. I remember there was a time in my life when I hated exercise, especially running. When we were supposed to run a mile in Gym class someone said to me, if this person can do it you can too. The person he was referring to was overweight. Sure enough I did it but it was hard. Then about 5 years after I started running to lose weight, which I lost 60 pounds in 1996, I ran my first 5 K and enjoyed it. Then I increased to 10K and eventually to the half marathon.
Now I feel like I am ready for the challenge. I have heard of the dreaded wall but I am not afraid of it because I know my will will carry me through. For me the real joy of running comes not so much from trying to win the race but the fact that I am able to finish, stay healthy and be a blessing to others. That is what I feel matters most.
Nicholas Zeman (Garfield Heights, OH)



---


I turned 45 in November 2003. I was out of shape and wanted to do something about it. After Christmas I started lifting weights. Then moved on to walking and trying to jog a minute at a time. By late April 2004 I ran my first 5K. It was a very slow time, but after crossing the finish line I was hooked.
At the end of 2004 I decided I wanted a marathon. I overtrained and tore a hip flexer. But, before the year was over I did run 3 half marathons and 5 10K's. In October 2005 I started to train again for a marathon. I picked one in February 2006 the Freescale in Austin, Tx. I gave myself 18 weeks of training and logged 601 miles. Can you believe it was 28 degrees in Austin on race day and sleeting all I brought was shorts. I ran a 4:18:06, not what I hoped for. But, when I crossed the finish line I was overcome by joy and cried for several minutes. I found a new level of joy that day that I didn't know existed. I can't wait to do one again in fall. Note it's harder then you think, but worth all the effort.
Jeff Bishop (Centennial, CO)


---
I am currently training for my first marathon, the Cleveland Rite Aid Marathon on May 21, 2006. When I cross the finish line (with a smile on my face - at 52 years old) I know that I can accomplish anything.
I had a heart attack at the age of 44. Too much junk food, stress from work, slightly overweight and no exercise. I started to walk around the block, then jogging/running. Two years ago, I decided to try a 5K run and got hooked. Last year I ran in 2 half-marathons. This year a marathon awaits.
Jim Majer (Richmond Heights, OH)
***UPDATE: I did finish the Cleveland Marathon (with a smile on my face) even though it was cold, raining and strong winds. My time was 3:57. This web site helped me in my marathon training. Thanks, JM.


---
I'm in training for my first half-marathon with my local YMCA. I started running over a year ago, weighing in at 240. I couldn't continue to live my life the way I was living it. The death of my mother, myself having to major surgeries in the last five years, helped me to be motivated.
I first started walking around the block, that in turn lead to running a 10th of a mile, and now training for a half-marathon. I have done everything wrong, running at night alone because I was so heavy I didn't want anyone to see me, running in shoes that weren't fitted to my feet, and pushing myself way to hard in the beginning to the point I couldn't walk. But doing everything wrong has taught me valuable lessons, I couldn't recommend this method to anybody, but it is my story. I educate myself more these days, I work out with others for support. I run a lot slower than most, but just knowing from where I started gives me faith in the training.
My eye is on the journey, showing up for practices, running the same distances even if I come back in a hour later than everyone else, my eye is on finishing. I hope after June 3rd I can come back to this website and type in those two amazing words, I finished. By the way I did lose some of that weight I started with, I'm 198 now, not my goal weight yet, but I'm in the best shape of my life.
Glenda Goins (Mishawaka, IL)



---
I had a close friend who was always talking about running a marathon and even though I thought she was crazy I was supportive and worked out with her at a local gym. After a serious relationship ended I was devastated. I wanted and sometimes did stay in bed for days at a time before deciding that if I didn't get up and commit to living, years could go by and I would loose time I would never get back. So nearing 40 I began thinking about what I wanted to accomplish, new things I wanted to experience and what I may miss if I didn't start setting some goals of my own. So as my friend lost interest in running a marathon I picked it up, told everybody I knew and enlisted another friend to run with me. Then I registered for the Chicago Marathon this coming October! Although I have researched training and eating for long distance running I have also missed runs, eaten too much sugar and been laughed at but I will continue to train and I will finish my marathon! I picture running through the electrified streets of Chicago and crossing the finish line knowing I have overcome everything that told me I couldn't do it! Even as I write this my whole body tingles thinking of it.
Jennifer Gibson (Seattle, WA)



---
I am 41 years old and I just ran my first Marathon in Houston last Sunday. I finished in just over 6 hours. I hurt all over made all of the rookie mistakes that could be made even after being warned and reading about them and it was still one of the greatest experiences of my life. I got to share the moment with my wife who is starting to think that maybe she could run a 5K and my 7 year old son that got to run the last 50 yards with me. I just hope that I can inspire him to maintain good health if he sees me run these events. I started running to lose weight and get fit. Now I run to maintain my fitness and achieve new goals.
James Shults (Mission, TX)



---
I am walking the Miami Marathon with the American Stroke Association "Train to End Stroke" program. I am with the ASA Jacksonville, Florida team.
I am walking this marathon in honor of my Dad, Joe Magee, who died of stroke. He worked hard all his life to provide for his wife and 5 children. He was a WWII hero with many medals and retired from the Air Force in his forties. He then worked for the U.S. Postal Service until he was 70 and retired in Webster, NH. He stayed active raising rabbits and goats, caring for his mini farm, volunteering at his church and with part time jobs in the Concord, NH area. He spent his winters in Flagler Beach, FL fishing, playing cards and shuffle board. At age 87 while getting ready for another winter in Florida he had a stroke. Fifteen months later he passed away. He didn't drink or smoke. He was never overweight and could still fit in his Air Force uniform. He was smart, funny, articulate, and would lend a helping hand to friend and stranger alike. He took care of everything and everybody. The one thing he ignored was himself and the mini strokes he started having, thinking they were just signs of getting older. He is missed by many but most of all his family.
Stroke is the third leading killer of Americans. There is not enough room for all the information I want anyone who reads this to have. Please research online or ask your doctor for information on the signs of stroke and stroke prevention.
NOTE: If you would like to support Josette and her cause, please visit http://ttes.kintera.org/Jacksonville - Click on Miami Marathon, click Sponsor Participant, search for my name (Josette Krause) or type it in, and click on it to get to my web page.
Josette Krause (Palm Coast, FL)



---
I am running my first marathon. I have done a 10 miler and a ½ marathon (2 years ago). I am doing the twin Cities marathon in Minnesota in October. I do not have a runner's body and this has been challenging. I have had a few aches and pains in my knees and calfs, but nothing so bad I could not keep running. 18 is my longest so far. I am doing it for the discipline. I have never been very disciplined at anything. I am happy-go-lucky and this is pushing me to keep goals, and keep on them firmly. Thanks for all the good info. Happy running!!!
Jodi (Minnesota)



---
I started walking half marathons in 2002. My first one took me 4hrs.11min.8 secs. I was 25lbs. over-weight at that time in my life. But, it was something I had to do. And, I am really glad that I did it. It put a lot of things in perspective for me. Basically, you can do anything you set your mind on. To date, I have completed my 6th half marathon. Best time ever was 3hrs.14mins.8 secs. Pretty impressive if I do say so myself. And, I do say so myself. Also, I have not mentioned to you yet that I am a type 2 diabetic. Yep, you heard me. I was floored by this diagnosis. Though the world was about to fall out from under me. But, after about a year of feeling sorry for myself I decided to take charge of things. Big loss of weight (25lbs.), a much better diet and a awful lot of mind over matter. And, nothing else matters more than LIFE. Get it, got it, goooooooood. Well, I have enjoyed telling you about life changing events for me. Hopefully, you have enjoyed what I have told. Maybe, just maybe this will inspire someone to make a dramatic change in there life. You can do-it. I bid you all Peace and Happiness.
Howard C. Buxenbaum (Longmont, CO)



---
I Will Run my first marathon during the year of my 40th Birthday. I just turned 39 on December 13th, 2005. My husband and I have five children. The oldest is 20 and the youngest is 16 months. I gave birth to three out of our five children and continue to be about 40lbs. over weight. I need to make some serious changes in my life. I am always putting everyone first and leave myself feeling, exhausted and worn out. It is time to make ME a priority and live a long happy healthy live for my family.
I used to run cross country track in middle school and loved the idea of being in shape. I was so inspired by the stories on this website that I made up my mind as of January 1st 2006, I will begin the training of my life.
I am so happy to have found this web site. I am sooooooo excited to get started on my journey to the new me, mind body and soul.
Julie White (Randolph, MA)



---
I have always heard about the half-marathon in Indianapolis and kinda wanted to do it, but never thought I actually could. I always justified my lack of trying with my fear of failing, but not this year! I have told everyone I know so I have accountability and support through the tough times. Also, I am collecting pledges from family and friends to give to a charity the day after I cross that finish line. I started college this year, and I am starting to realize the importance of a healthy lifestyle. I can't wait to surprise myself with success. I wish those of you who are going for it this year, the very best! We can do it!
Megan Hughes (Indianapolis, IN)



---
I am running the Garry Bjorklund Half Marathon, Duluth, MN. Up here in the Twin Ports, Grandma's Marathon is a huge part of our year. I noticed last summer that I saw many people wearing Half Marathon "Finisher" t-shirts, and realized that they all looked like "normal" people, not your typical impossibly fit marathon-runners. It made the whole idea of running marathons seem more realistic to me, a non-runner. So, I decided to try distance running to enrich my life in many different areas, both physical and mental. I figure if I can do this I can pretty much do anything. So far about six of my friends are going to run the marathon with me. We will be doing a preliminary long run in May, about 6 weeks before the actual marathon, as part of Relay for Life at my college, the University of Wisconsin-Superior.
Susan Kusilek (Superior, WI)



---
Thank you all for your stories of marathon inspiration.
Want to share your story of marathon inspiration? Simply fill out the Marathon Inspiration form to share your story with others.