My Favorite Runner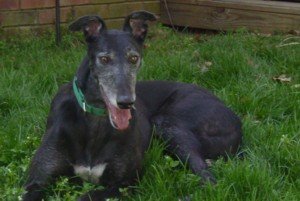 Okay, so he's retired, but he's still my favorite runner of all time. He's my best pal. My main bud.
If you are a dog-lover or simply looking for a companion, consider adopting a retired racing greyhound. Despite popular belief, they are very docile animals. In fact, they're couch potatoes! Most sleep up to 18 hours a day! They're great with kids and the elderly. Most go into a foster home and then to a loving family where they brighten each and every day. Adopting the Racing Greyhound
is a great resource for learning more about retired racing greyhounds.
NOTE: Greyhounds are NOT good training partners. While they are known for their fast running, they run sprints and can then sleep for hours. Do not adopt a greyhound with intentions have having a marathon or half marathon training partner.